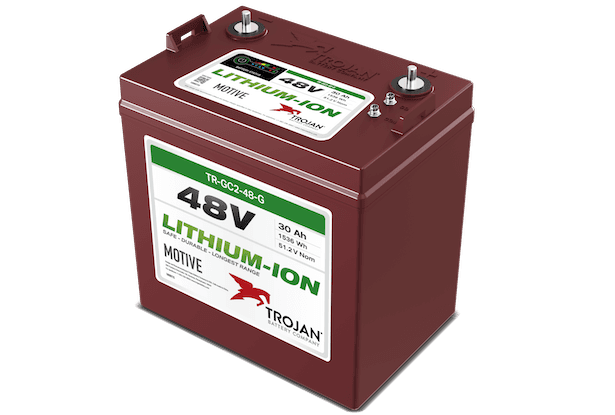 GC2 48V Lithium-Ion Battery
New
GC2 48V Lithium-Ion Battery
Fully charged in less than 4 hours.
Trojan's GC2 48V lithium-ion battery allows customers to go farther, charge faster, and leave maintenance in the rearview mirror. The TR GC2-48-G battery delivers unmatched performance at lightning speed——reaching a full charge in under four hours.
BAttery Quick Facts
Capacity Minutes
@25 Amps / 72
Capacity Amp-Hours
5-Hr Rate / 30 Ah 10-Hr Rate / 30 Ah 20-Hr Rate / 30 Ah
Dimensions inches (mm)
Length / 10.4 (264) Width / 7.1 (180) Height / 10.9 (278)
Weight lbs. (kg)
37 (16.8)
Operating Temperature
-4°F to 113°F (-20°C to 45°C)
Features & Benefits
Drive 45-60 miles on a single charge with a 3-battery configuration*
Travel up to 15% farther than other leading GC2 lithium-ion batteries**
2-3X the lifetime of flooded lead acid batteries – can last ten or more years
Virtually zero maintenance (preventative maintenance only) – no more watering required
Acid-free design takes away corrosion, acid drips and charging fumes
Fully charges in under 4 hours vs. 8-10 for flooded lead acid batteries
Compatible with leading charger brands (reference the Lithium Charger Compatibility Guide for details)
Tested for off-road durability and to automotive standards (SAE)
Smart BMS (Battery Management System) self-protects against short circuits or overheating
Made with one of the most stable lithium formulas (LFP)
Add a state of charge dashboard battery gauge to always know how much charge you have left (optional)
Meets safety and performance standards, including global and independent agencies – UL, SAE, ETL, FCC, CE
8-year limited warranty
*Actual driving range will vary based on terrain, temperature, load and vehicle operation.**Based on published range of competing GC2 lithium-ion batteries.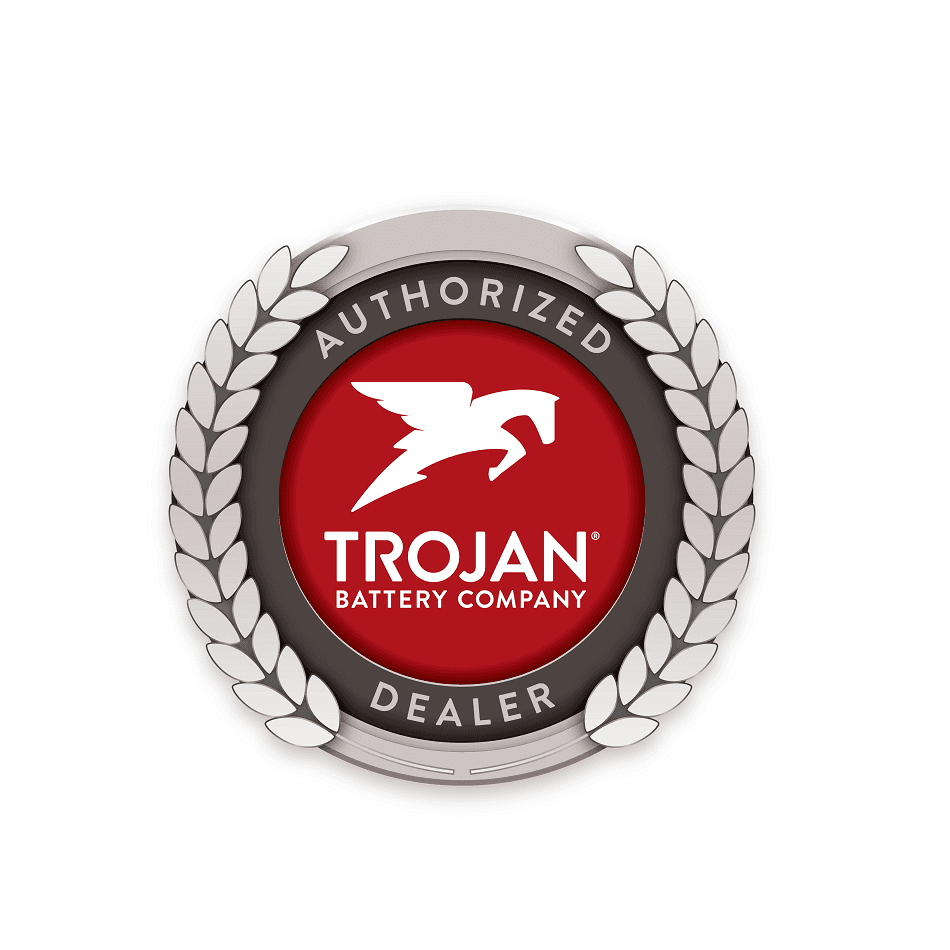 Find the right battery and your nearest dealer
Use our new Battery Finder tool to find the right Trojan battery for your equipment or vehicle—and then find an authorized Trojan battery dealer near you!