Our History
We've been shaping deep cycle battery technology for almost a century. Learn about our company history.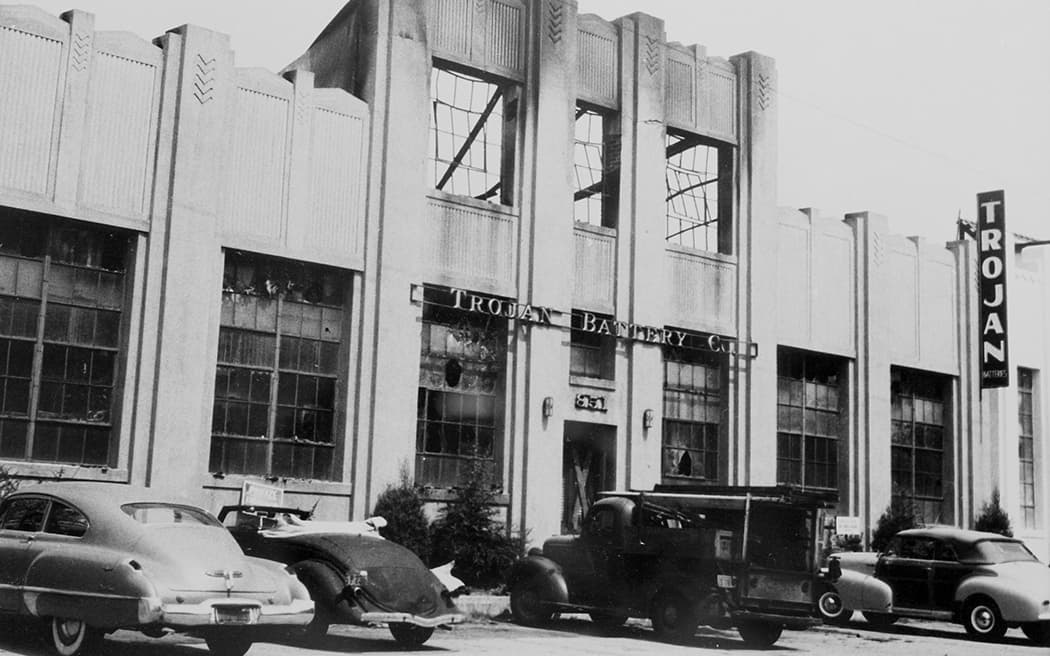 Deep cycle excellence since 1925
After serving on a submarine in World War I, George Godber started Trojan Battery in the Los Angeles area with his partner and brother-in-law, Carl Speer. They began manufacturing automotive batteries before moving to batteries for commercial trucks.
The 1940s
Dick and Ray Godber joined the company, ushering in the second generation of family leadership. Seeing that deep cycle technology would the wave of the future, the company began focusing on this area.
The 1950s
Trojan pioneered the first deep cycle golf car battery, partnering with golf cart manufacturer Autoette to design a vehicle for a physically challenged golfer and making it easier for him to travel the course. This began a legacy of leadership in the electric golf car industry that prevails today, with maroon Trojan batteries powering golf carts on almost all the top golf courses in the United States.
The 1960s & 1970s
Expanding its line of deep cycle batteries, the company moved to Santa Fe Springs in Southern California. Growth continued into the 1970s with the addition of batteries for floor machine, marine, construction and various industrial applications.
The 1980s & 1990s
The company moved to its current location in the 1980s and acquired its first east coast facility near Atlanta, Georgia. In 1992, Trojan established a state-of-the-art Technology Center in Santa Fe Springs, California, dedicated to advancing product design and development. To this day, Trojan prides itself on operating the industry's leading design and test facility for deep cycle batteries.
Today
Trojan Battery Company remains dedicated to designing and building premium Trojan-branded deep cycle batteries in their distinctive maroon color, for applications including golf and utility vehicles, floor machines, aerial work platforms, transportation, marine vessels, recreational vehicles, neighborhood electric vehicles and renewable energy systems. All backed by outstanding technical support and customer service.
With a worldwide network of Trojan master distributors, numerous dealers and a growing retail presence, Trojan products continue to power the planet. The Trojan Battery team is proud of the company's heritage and the premium batteries we offer, and the work we do continues to drive our company motto: Charging Forward.™
Our History
2022
Launched the longest-range GC2 lithium-ion golf car battery Introduced a 48V GC2 lithium-ion battery to the golf industry Launched the 24V/36V lithium-ion battery line.
2018
Acquired by C&D Technologies, a portfolio company of KPS Capital Partners.
2013
Launched two new deep-cycle 8V batteries: Traveler™ 8V, the longest-life battery and Ranger 160™, the longest-range battery. Received Frost & Sullivan 2013 "Innovative Enterprise" award. Received Genie's "Outstanding Performance" award for 2012. Received 2012 "Application Solar Project of the Year" award for a solar-powered rural street lighting project in Dubai, U.A.E. Received investment from Charlesbank Capital Partners.
2012
Selected as one of the "most admired companies" by readers of Golf Course Industry magazine, as well as a company they can trust to provide reliable products and support.
2011
Received highest in sustained capacity and total ampere hour performance rankings for Trojan's T-875 flooded batteries from independent third-party. Launched industrial line of deep-cycle flooded batteries for renewable energy applications. Added U1-AGM and 22-AGM products to the deep-cycle AGM line.
2010
Introduced T2 Technology™ for its flooded deep-cycle batteries, with improvements that deliver greater maximum sustained performance, longer life and increased total energy.
2009
Launched HydroLink™ single-point watering system, for faster, safer and easier battery watering. Launched cycling AGM batteries with improved cycling power and sealed, maintenance-free convenience. Received ISO 9001:2008 certification for California and Georgia operations.
2008
Launched AC Series line of floor scrubber batteries delivering high performance and better value. Launched RE Series, designed specifically for renewable energy applications.
2007
Launched the innovative Plus Series™ deep-cycle battery line Launched new line of maintenance-free deep-cycle gel batteries Opened a fourth manufacturing facility located in Sandersville, Georgia. Established an East Coast battery test lab in the Sandersville facility.
2006
Received ISO certification for Santa Fe Springs, California facility. Broke ground on Trojan Battery plant in Sandersville, Georgia.
2005
Received ISO certification for Lithonia, Georgia facility. Launched consumer Marine/RV™ brand, consistent with its continuing growth and retail distribution in these industries.
2004
Developed and launched its new line of spill-proof, maintenance-free Absorbed Glass Mat (AGM) batteries.
1993
Trademarked the color maroon as a symbol of quality, reliability and excellence. Only genuine Trojan Batteries come in the distinctive maroon case.
1992
Established the Trojan Technology Center, a state-of-the-art research and development facility, in Santa Fe Springs, California.
1988
Purchased ALCO Battery in Lithonia, Georgia, which becomes the company's first East Coast manufacturing facility.
1985
Developed the Maxguard® Advanced Design Separator. Trojan the only battery manufacturer offering this proprietary technology, designed to increase battery life and improve performance.
1952
Invented the electric golf car battery for the Autoette vehicle so a physically-challenged golfer could enjoy the game.
1925
Founded by George Godber and Carl Speer in the Los Angeles area, as World War I ends and the Roaring Twenties are in full swing.
More about Trojan Battery