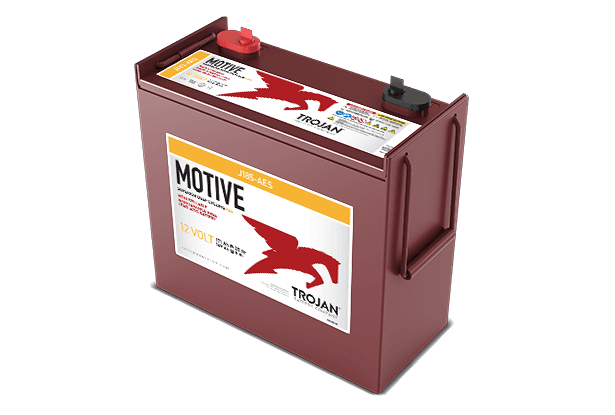 J185-AES 12V Battery
New
J185-AES 12V Battery
The J185-AES 12V battery offers excellent energy output for applications including floor cleaning machines. Trojan AES delivers up to 3x the cycle life of standard AGM with high sustained performance. Trojan AES batteries maintain high capacity in extreme deep cycling (up to 100% DoD), in challenging temperatures and partial charging conditions.
BAttery Quick Facts
Capacity Minutes
@25 Amps / 350 @75 Amps / 94
Capacity Amp-Hours
5-Hr Rate / 140 10-Hr Rate / 155 20-Hr Rate / 175 100-Hr Rate / 210
Dimensions inches (mm)
Length / 14.97 (380) Width / 6.94 (176) Height /14.45 (367)
Operating Temperature
-40 °F to 160°F (-40° C to 71° C)
Features & Benefits
Lasts Longer: Up to 3x longer cycle life than standard AGM. Validated at 1,200 cycles at 100% DoD vs. 400 cycles for AGM.  

Performs in harsh conditions: Robust performance in extreme temperatures and conditions. Temperature range from -40 °F to 160°F (-40° C to 71° C).  

Delivers harmless PSoC: Tested to withstand partial state of charge, again and again.    
Maintenance Free: Virtually no maintenance as watering is not required.
Safe and Sustainable: Trojan AES is classified as non-spillable and can be safely mounted horizontally to fit difficult locations. It's made using 80% recycled materials and is 99% recyclable.
Rugged Design: Designed and manufactured to absorb vibration and shock.
Warranty: This VRLA battery is backed by a three-year warranty.
AGM Charger: Charge with existing AGM charger and profiles.