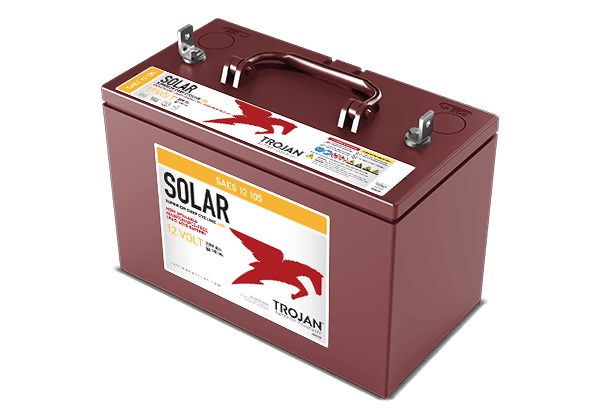 SAES 12 105 12V Battery
New
Solar SAES 12 105 12V AES Battery
The Solar SAES 12 105 12V Solar AES battery provides deep-cycling power to multiple applications, such as renewable energy and backup power. This maintenance-free battery offers a reliable power source for a wide range of off-grid and unreliable grid applications. Trojan Solar AES delivers up to 3x the cycle life of standard AGM with high sustained performance.​ Trojan Solar AES batteries maintain high capacity in extreme deep cycling (up to 100% DoD), challenging temperatures and partial charging conditions.
BAttery Quick Facts
Capacity Amp-Hours
10-Hr Rate / 94 20-Hr Rate / 100 48-Hr Rate / 109 72-Hr Rate / 111 100-Hr Rate / 113
Dimensions inches (mm)
Length / 12.80 (325) Width / 6.81 (173) Height / 9.34 (237)
Operating Temperature
-40 °F to 160°F (-40° C to 71° C)
Features & Benefits
Lasts Longer: Up to 3x longer cycle life than standard AGM. Validated at 1,200 cycles at 100% DoD vs. 400 cycles for AGM.  

Performs in harsh conditions: Robust performance in extreme temperatures and conditions. Temperature range from -40 °F to 160°F (-40° C to 71° C).  

Delivers harmless PSoC: Tested to withstand partial state of charge, again and again.    
Maintenance Free: Virtually no maintenance as watering is not required.
Safe and Sustainable: Trojan AES is classified as non-spillable and can be safely mounted horizontally to fit difficult locations. It's made using 80% recycled materials and is 99% recyclable.
Rugged Design: Designed and manufactured to absorb vibration and shock.
Warranty: This VRLA battery is backed by a three-year warranty.
AGM Charger: Charge with existing AGM charger and profiles.